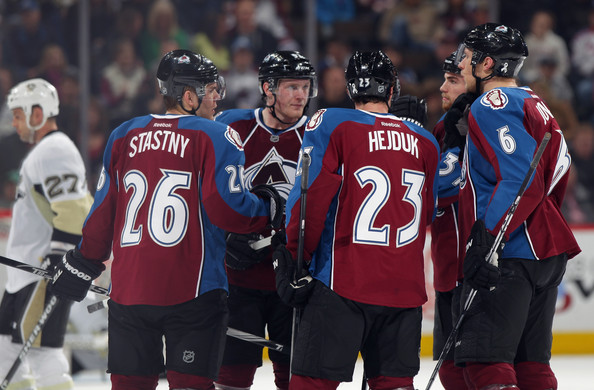 The Colorado Avalanche have a unique way of doing business. Evidently, Colorado's front office prefers to handle all contract matters during the summer after the regular season has concluded. While we aren't here to say Colorado is incorrect with how they choose to handle their business, it is worth noting that their method has created a fairly unique situation.
Heading into 2012-13, the Colorado Avalanche have just eight players under contract. They have 11 forwards and four defenseman from the 2011-12 season set to be free agents in 2012-13, leaving the Avalanche with a whole bunch of decisions to make this summer.
Things are going to get interesting. The Avalanche have elected to make decisions on all of their expiring contracts over the summer, leaving many Avalanche players confused as to what their future holds. At the current time it's nearly impossible to predict what Colorado's lineup will look like in 2012-13.
These are the men that are currently signed for the Avalanche through 2012-13.
Forwards
Paul Stastny
Gabriel Landeskog
Chuck Kobasew
Defenseman
Jan Hejda
Ryan O'Byrne
Tyson Barrie
Goaltenders
Semyon Varlamov
J.S. Giguere
That's a pretty light roster for 2012-13. You'll also notice that numerous big names that played for the Avs in 2011-12 are set to be a restricted or an unrestricted free agent this summer.
Restricted
Matt Duchene
Peter Mueller
Steve Downie
Ryan O'Reilly
Kevin Porter
Mark Olver
Jamie McGinn
Erik Johnson
Ryan Wilson
Unrestricted
Milan Hejduk
David Jones
Jay McClement
Cody McLeod
Matt Hunwick
Shane O'Brien
Holy cow. Where do we even start?
The Avs are fortunate that the bulk of their most talented players are restricted, allowing the Avs to be able to make a decision on them before other teams have an opportunity to come in and steal them away.
Immediately, our attention shifts to arguably the most talented player on the list above, Matt Duchene. Prior to the 2011-12 season, it seemed obvious that the Avalanche would give Duchene a long-term contract sooner than later. However, injuries claimed a chunk of his 2011-12 season and alleged rifts with head coach Joe Sacco tainted his play once he returned. When healthy, Duchene is on the fringe of the NHL's elite. It's tough to imagine a scenario where the Avalanche let Duchene walk free.
Like Duchene, it's tough to imagine a scenario where Colorado doesn't bring back Ryan O'Reilly and Erik Johnson. O'Reilly has proved that he is one of the most talented youngsters on the rise in the NHL while Johnson will have to be brought back simply because the Avs paid such a hefty price for the defenseman and would be foolish to cut their losses now.
Milan Hejduk's future is a mystery as of the date of this article. Named captain during the 2011-12 season, the Avalanche made it clear to Hejduk (pictured right) just how important he is to the franchise. However at age 36 a long-term deal isn't in the cards for Hejduk. At this time it appears that Hejduk will have two options – retirement or a one-year deal.
It's impossible to predict what GM Greg Sherman will do. If you think you can guess what he will do, you're fooling yourself. The past several trade deadlines have shown that Sherman is unpredictable and willing to make bold moves that might not always sit well with his fans. This unpredictable nature adds a whole new level of intensity to the summer for the Avs.
The question must be asked: Are the Colorado Avalanche wise in how they handle their contracts or are their tactics backfiring? The theory is that the Avs don't want negotiations to distract players from their main focus – winning games. The Avs also want to wait to make their decision on each player when they have the largest possible sample to draw conclusions from. In a case such as Peter Mueller, it makes sense to delay any contract talk until it was clear he had overcome his concussion.
On the flip side, Colorado's tactic of waiting until the summer to talk contracts holds plenty of negatives. Players are left uncertain of their future and might harbor resentment when their future is dangled in front of them all season long. Several players including Duchene, O'Reilly, Johnson and O'Brien all have expressed their interest to return to the Avalanche in 2012-13. We can assume there might be some anxiety as each player is left uncertain of whether he needs to start packing his bags or not.
One other point to consider is that while Colorado electing to wait until the summer to give new contracts does allow them to gather the maximum amount of information from each player, it prevents them from finding any bargains financially from within their own ranks. For example, the Avs might have been able to sign Ryan O'Reilly to a new contract at a much cheaper rate a few months ago than they would be able to today. Where their strategy to gather information about players has its perks, here it stumbles and prevents them to lock in a talented, rising star at a cheaper rate.
What do you think of Colorado's strategy to make all of their contract decisions once the season concludes? For or against? Also, which 2011-12 Avs will return in 2012-13?