As we all learned during the 2012 Stanley Cup Playoffs, NHL teams and their Twitter feeds are often sources of great amusement. They're also pretty protective of their teams from outsiders who might look at their sport with derision. Outsiders like the Dallas Cowboys, who apparently were cranky about missing the playoffs and wanted to take out their frustrations on the Dallas Stars.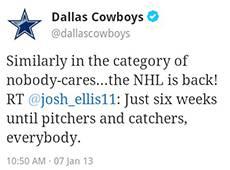 Well, that was certainly uncalled for, football team that's missing the playoffs again. How'd the Dallas Stars respond? With class and restraint, of course.
Just kidding — they trolled the heck out of the Cowboys:
At least our #9 got the job done….. RT:" @dallascowboys Similarly in the category of nobody-cares…the NHL is back!" twitter.com/DallasStars/st…

— Dallas Stars (@DallasStars) January 8, 2013
The Cowboys responded with the perfunctory "Sorry, it was an accident!" and to their credit the Stars accepted that apology, much like you hoped your mom would when you "accidentally" knocked your squash casserole onto the dog's head one night at dinner.