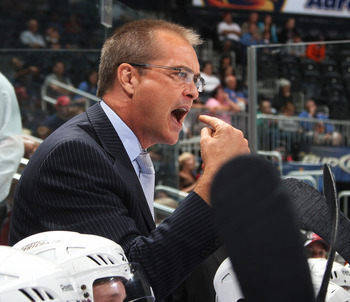 That escalated quickly. It used to be that teams would wait until Christmas before making any rash decisions with their coaching staff, no matter the team's record. But today changed all of that.
After Bruce Boudeau got the axe this morning, Paul Maurice got his walking order from the Canes. It has been a rough start to the year for Carolina, but considering what he had to deal with, it seems like an easy excuse to blame Maurice for the struggles of the team.
The Hurricanes are a team in flux. They have a young star in Jeff Skinner, an overpaid captain in Eric Staal, then a mix of decent young players and respectable vets to fill out the lineup. Maurice was not giving the youngsters a chance to get into the lineup, and perhaps Kirk Muller will change that.
Zach Boychuk, Brandon Sutter and Zac Dalpe could all benefit from the change in leadership. The three youngsters have had a tough time finding a role on the team with Maurice leading the charge, but with the Canes sitting second last in the East, they had might as well commit to a youth movement now.
It is tough to fault Maurice for failing to get much out of his highest paid players, especially when those players are Tomas Kaberle, Tuomo Ruutu and Jussi Jokinen. Nothing against these guys, but when they make more than $11 million this year combined, it is a clear indication that your team is not in good shape on or off the ice. Kaberle has played so well this year that he earned a healthy scratch over the weekend.
Carolina's blue line is nothing short of a disaster, and that might be putting it lightly. Again, to blame the lack of talent on the roster on the coach is inexcusable, but predictable is todays day and age. When Justin Faulk is logging more than twenty minutes a game, and Chad LaRose is your second leading scorer, it seems like the man behind the bench might not be at fault.
But you have to blame someone right? Short of a wholesale organizational change, general manager and all, this is the type of move that you can expect from a team struggling to stay afloat. The Canes need something, anything, to get them going. The community is more interested in Jimmie Johnson than Jeff Skinner, and all of the good will that the All-Star game brought to the region is an afterthought at this point.
Kirk Muller is going to step in, and the former grinder is going to step in and demand accountability. Just like all new coaches do. Muller will likely have great success for the rest of the season, and he will be labeled the new Guy Boucher. He was a good two-way solider for the Devils during their glory days in the '90's, and he will likely instill a similar style of play in Carolina.
It is Paul Maurice's fault that he got so little out of a roster with..so little? No. But it is not surprising that the Hurricanes panicked as the season started to go down the hill. They have too much money invested in players that are well past their prime, and Maurice failed to get anything out of them.
On to the next one, as Black Monday continues.
If Eric Staal doesn't get that plus/minus in order, he could be on the receiving end of one of these jabs.
http://youtube.com/watch?v=
z4GC_J4wOsg[/youtube]