Imagine how Sidney Crosby feels.
The greatest hockey player in the world. A generational talent. The Golden Boy. First overall pick. Stanley Cup Champion. Franchise centre. He is everything. But for now, he is nothing.
Imagine being Sidney Crosby right now. You have dominated the game at every level since you were just a youngster playing at Shattuck St. Mary's. No one has ever been on your level, no matter who they threw at you.
They said you were just a passer, so you went out and scored 50. They said you were not tough enough, so you dropped the gloves. You are the poster boy of the game, appearing in countless commercials north of the 48th, and children across the nation imitate your moves.
We saw you score with a full cage at the World Jr.'s, and we knew that you would dominate the NHL. You did just that, netting 102 points in your rookie year.
The Olympics came along in 2010, and you were going to lead the team to gold on home ice. Many thought that Jonathan Toews had a better tournament than you, but when it really mattered, you scored the goal that sealed the victory. The whip-your-gloves-off-and-scream celebration is now enshrined in our history.
Always the perfect player on the ice, and arguably better off the ice. The perfect interview. Signing autographs with kids for hours. Giving back to the community at every request. Taking the home town discount to make salary cap management easier for Ray Shero. Playing alongside irrelevant line mates for much of your career, and never complaining once.
But then the 2011 Winter Classic came along.  The league was once again parading you out there as the star of the league. It was the fabricated Crosby-Ovechkin rivalry that we all pretended actually existed. Then Dave Steckel blindsided you, and something didn't feel right.
You tried to shake it off. This is Sidney Crosby after all. A broken bone here or there, but now it was your head. It was a little foggy, but you powered through. So you suited back up a few days later against the Lightning and went after it. Then Victor Hedman smeared you into the endboards. Now something definitely was not right.
But it couldn't be. At first it was just minor. But it persisted. The headaches. The slightest physical activity left you dizzy. After jumping out to a ridiculous scoring lead with 66 points in just 41 games to start the season, you were down, and you could not get up.
And so a lengthy ten month recovery took place. No one was going to rush you back until you were 110% ready. Some methods of the recovery were less than typical, but you were willing to do anything to get back on the ice. Finally you were cleared for contact, and yet you still took your time. Getting your legs back. Scribes watched your every move, awaiting word of your return to the game that so sorely missed you. 
Finally it was time. The New York Islanders threw rookie tender Anders Nilsson to the wolves, just for you. It took just minutes for you to remind the league what we missed so badly. A ridiculous move around the outside and a sick backhander over the shoulder of the hapless tender. You finished the night with two goals and two assists, and the hockey world was buzzing.
The prodigal child had returned.
He continued his stellar play, racking up another ten helpers in the next eight games.
But then it happened again. You cannot pinpoint the exact moment that it happened, but it did not feel right once again.
The headaches were back. You could not quite give it your all. Just two games on the sidelines the Penguins said. But we all knew that would not be the case.
You sat at the press conference. Trying to answers the worlds questions. But you could not. Would it be a week? A month? Ten months? Would you ever get back to the point that you were?
We have seen it before. Eric Lindros. Keith Primeau. But while some players playing style put them in danger, it was hard to pinpoint what exactly it was about your game that resulted in these repeated concussions.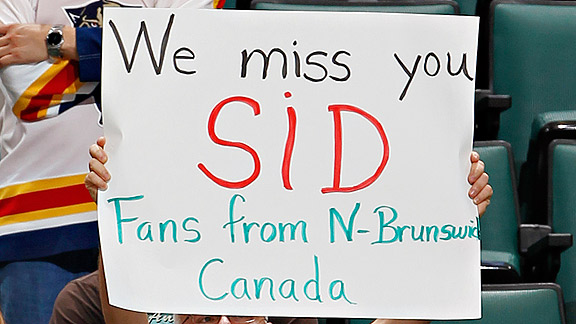 No one wants to talk about concussions. We skirt around the issue with "whiplash" and "concussion-like-symptoms". But in reality, it is a brain injury. Brain. The most important part of your operating system. Brains heal in all sorts of ways, with players like Patrice Bergeron able to come back from brain injuries, and others like Marc Savard incapable of going for a run.
When we see along the ticker that a player suffered a head injury, it really should read "Sidney Crosby out indefinitely (brain injury)". We dress it up with this concussion word and try to hide the reality of the trauma that the players suffer when their heads are smeared into plexiglass by someones forearm.
Imagine being Sidney Crosby. The best player in the world. One of a kind. The Golden Boy. He has won everything. No challenge has been to steep.
Except the challenge of brain trauma. He may never return to the level that he once played at.
Imagine being Sid.